Once you receive a debit or credit card payment from your customer, Stripe will begin processing your funds and should post them to your bank account within 2 business days of the transaction (if you are in the US) — check your Stripe Dashboard for the exact date when funds should be available.
The first debit or credit card transaction you receive will take at least 7 business days to transfer. This holding period is necessary for complying with anti-money laundering regulations and to reduce the risk of fraud. After your first payment has been processed, Stripe will then process all subsequent payments within 2 business days of the transaction.
Because Invoice2go does not process your card payments, Invoice2go does not control when your funds are made available. All payment processing and direct deposits are handled exclusively by Stripe. If you don't see your funds in your bank account but you are expecting them to be there, please check your Stripe Dashboard to see the current status of your payment.
All Invoice2go payments are processed by Stripe in the UTC time zone — the processed date may not be the same as the date on which a charge is made in your local timezone. After the payment has been verified by Stripe, your funds will get sent to your bank. Most banks will post funds on the same day as they are received. Depending upon weekend or holiday schedules, your bank may take an additional 2 to 3 business days to post your funds to your bank account.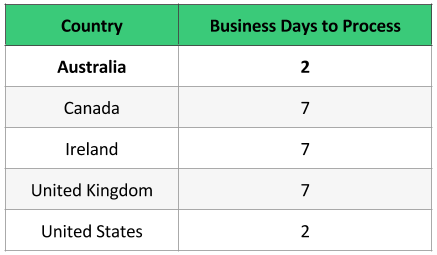 *Note that transfer schedules are set by Stripe
Helpful Tips
The exact timing of your first transfer may also vary depending on different factors. If you have not received your funds 7 days after your first payment, check your Stripe account and verify that your bank account information has been entered correctly. If your bank information is correct and you are still not seeing your funds, please see Stripe help for a full list of possible transfer failures.
If your bank account is not able to receive a transfer, your bank will return the funds to Stripe. Banks can take up to 5 business days to inform Stripe about transfers that did not go through, at which time you will receive an email and be notified in your Stripe Dashboard about the issue.
You cannot receive your funds until you have linked your bank account to Invoice2go payments.
If you do not link your bank account to Invoice2go payments within 21 days of receiving your first payment, Stripe will automatically refund your customer their payment.