The client profile is a central page for managing all your client's information. You can action invoices, view reporting and historical information, and also perform quick actions such as calling, messaging and emailing your customer.
Clients can be created by directly by adding them to the Client List or by saving them when you create an invoice.
From the client profile screen, you can see their outstanding balances and the option to call, text, or email the client directly from our app.
In the mobile and tablet app experience, you can edit a client's information by going to the client's profile and choosing Edit. Once you enter a phone number, email, and location, the quick action buttons will allow you to Call, Text, and Email your client. Tapping on these buttons will open the corresponding default phone, message, and email app on your device.
When you add an address, you will see a map card that pins your client's physical location; please ensure that your location permissions are enabled.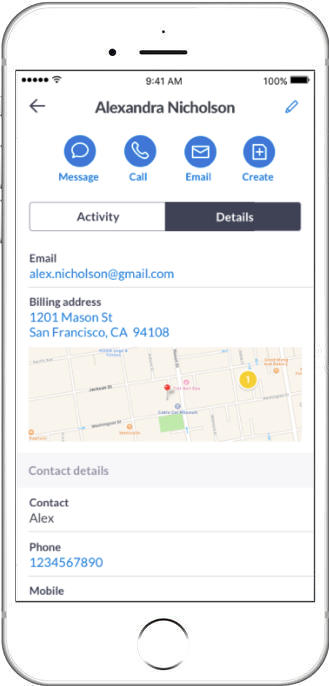 For users on the Pro Plan or above, the Activity tab will display all associated documents for that client.
Tapping on Create from this screen will allow you to create an Invoice, Estimate, Purchase Order, or Credit Memo for that client.
Using the client profile is an easy way to get a glimpse at all of your client's information and get in touch with them if they have any outstanding invoices due.