Creating an invoice is an essential process that helps record the business you've completed, stay organized, save time and get paid faster.
You can create an invoice from either your iOS or Android device, or from our web app on your computer.
The following steps walk you through how to create an invoice — the steps below are similar for all of your document types (estimates, purchase orders and credit memos). Also check out our sample invoice template here!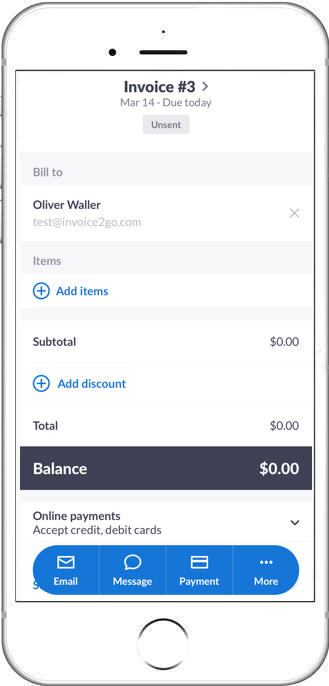 iPhone, iPad, and Android
From the home screen, tap on the Invoice button (you can also create an invoice from your invoice list by tapping on '+')
This will bring you to the invoice edit screen, where you can tap on each field to add details for your invoice
Client information:

Tap on Add client, and then either select a client from your client list, or add a new client by tapping on the + symbol in the top right corner
Click into the Client name field, and select a client from your client list that appears in the dropdown or type in a new client name

Items:


Tap on Add items, and then either select an item from your item list, or add a new item by tapping on the + symbol in the top right corner
If you would like to add an expense to your invoice, tap on Add items, select the expense column, and then select the expense you wish to add

Balance:


Tap on Add discount if you wish to add an discount, and indicate if it is a unit value or a percentage

Payment Details:


Under your balance, you will see the option to accept online payments. Tapping this will open a drop-down menu that allows you to toggle on card payments and PayPal
On the Pro Plan and up, you can toggle on Payment reminders to send your client a reminder at set intervals
Tap in the Payment details box to add notes such as a bank account number, or instructions on how you wish to receive payment

Additional Details:


Tap in the Comments box to add notes to the bottom of your document
Tap on Attach photos, then select the photo(s) from your photo album or take a new photo
Tap on Save in top right corner
Once you are done saving your invoice, tap the green next button at the bottom of the screen to be brought to the preview & manage screen.
From the preview and manage screen, you have the option to set up recurring invoices, add a payment, print, and other options. This is also where you will send out your invoice. Tap on the green Send button and you will then choose how you would like to deliver the invoice. To preview the invoice in full screen mode, tap on the image of the invoice on the top of the screen.
Web
From the home screen in the top right corner, click on the Create button (you can also create an invoice from your invoice list by clicking on Add invoice)
Select Invoice
This will bring you to the invoice edit screen, where you can tap on each field to add details for your invoice
Client information:

Click on Add client
Click into the Client name field where it says, "Enter a billing name or search your client list"
Either select a client from your client list that appears in the dropdown or type in a new client name
Click Save client

Items:

Click on Add items
Click into the field where it says, "Type a description or search your item list"
Either select an item from your item list that appears in the dropdown or type in a new item name
Select Save to item list
Click Add item

Additional Details:


If you would like to add an expense to your invoice, select items in your item list that are marked with the tag Expense
Click on Attach photos, then select the photo(s) from your computer to upload
Under the comments and payment details section, add any Comment or Payment details
Click on Save and close in top right corner