Invoice2go payment reminders send automatic email reminders to let your customers know it's time to pay the invoices you've sent them.
Enabling payment reminders does not automatically activate reminders for all invoices — payment reminders are set at the invoice level and delivered on an invoice basis.
The timing of your payment reminders can be managed in "Client Communication" within settings.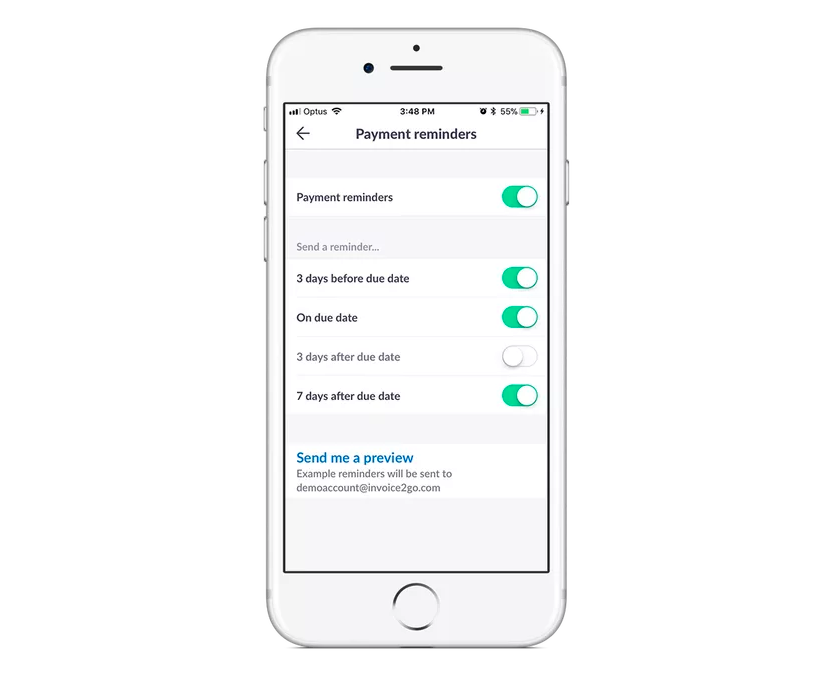 The payment reminders default settings will schedule reminders to be sent out three days before the invoice due date and three days after the invoice due date. You have the following options to schedule payment reminders:
3 days before invoice is due
On invoice due date
3 days after invoice is due
7 days after invoice is due
In order for any payment reminder to be scheduled, you must provide a valid email address for your customer in the invoice. Once scheduled, all reminders will be emailed to your customers at 7 a.m. locally (your time zone). 
If your invoice has a payment reminder scheduled, you will receive a notification the day before the reminder is sent to send in case you want to cancel it (by turning payment reminders off at the invoice level).
Scheduled payment reminders will not be sent to your customer once an invoice has already been marked as fully paid, either manually or paid through the Invoice2go debit and credit card payment option.
To use payment reminders, you must have a Standard, Advanced, or Unlimited subscription plan. If you are on the Invoice2go Lite Plan, upgrade to use payment reminders.
iPhone and iPad
From the side navigation menu, tap on Settings
Under the Company section, tap on Client communication
Tap on Payment reminders
Toggle on Payment reminders
Select the schedule you want to set up for your payment reminders
Tap on Send me a preview to receive an example payment reminder
    *Available for versions iOS 9.4.0 and later 
Android
From the side navigation menu, tap on Settings
Under the Company section, tap on Client communication
Tap on Payment reminders
Toggle on Payment reminders
Select the schedule you want to set up for your payment reminders
Tap on Send me a preview to receive an example payment reminder
 *Available for versions Android 8.5.0 and later
Web
From the side navigation menu, click on Settings
Under the Company section, click on Client communication
Toggle Payment reminders on
Select the schedule you want to set up for your payment reminders
Click on Send me a preview to receive an example payment reminder