Add items to your invoice to record the work that you have completed for your customers. 
When you are creating an invoice, you can either create a new item and add it to it or you can add an existing item that has already been added to your item list. You can create and save as many items as you would like, regardless of your plan type. 
On all your devices, you have access to an Items List that stores information about your frequently invoiced items. This information can easily be applied to invoices and modified as needed.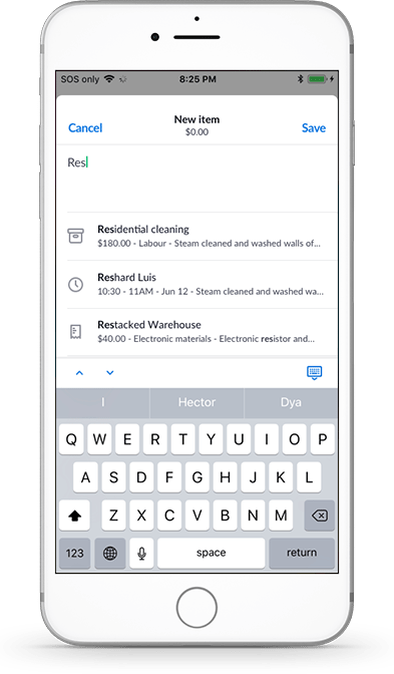 Need to invoice a new item? We've got you covered there, too. Whether you're on a mobile device or your computer, it's quick and easy to enter details about a new product - directly on your invoice.
iPhone and iPad
Open (or create) the invoice you want to add an item to
Tap on Add item 
Start typing in the item name or description. This will allow you to search your existing items, which will appear under your text.

To pick an existing item, tap on Search, and you can search from your existing Items, Expenses, and Time entries

If creating a new item, enter the item description. You may also see product code if you have the option enabled in your settings

To enable product codes, go to Settings > Customize Invoice Options > Table > toggle ON product code

Enter the Rate, Quantity, Unit, and Tax (if applicable)
Tap Save
Android
Open (or create) the invoice you want to add an item to
Tap on Add item 
Start typing in the item name or description. This will allow you to search your existing items, which will appear under your text.

To pick an existing item, tap on Search, and you can search from your existing Items, Expenses, and Time entries

If creating a new item, enter the item description. You may also see product code if you have the option enabled in your settings

To enable product codes, go to Settings > Customize Invoice Options > Table > toggle ON product code

Enter the Rate, Quantity, Unit, and Tax (if applicable)
Tap Save
Web
Open (or create) the invoice you want to add an item to
On the Create tab, click on Add items

To create a new item, start typing in the item name or description 
To add existing item(s), start typing in the item name or description, and select the item(s) you wish to add

*Adding a new item will automatically save it to your item list for future use, unless you disable the option Save to item list.
Enter the Product Code, if applicable 


To enable product codes, go to Settings > Customize Invoice Options > Table > toggle ON product code

Enter the Rate, Quantity, Unit, and Tax (if applicable)
Click Save