You can now send your invoice through the Invoice2go app via SMS, iMessage, Facebook Messenger, WhatsApp or any other messaging apps available on your device. This feature will allow your clients to respond, view, and pay your invoices faster, while allowing you to manage your business more effectively.
You can send your documents to your clients by directly texting them through an available messaging app on your device. This action is possible from the invoice preview screen. The "chat bubble" button, which indicates the action to send an invoice through text messaging.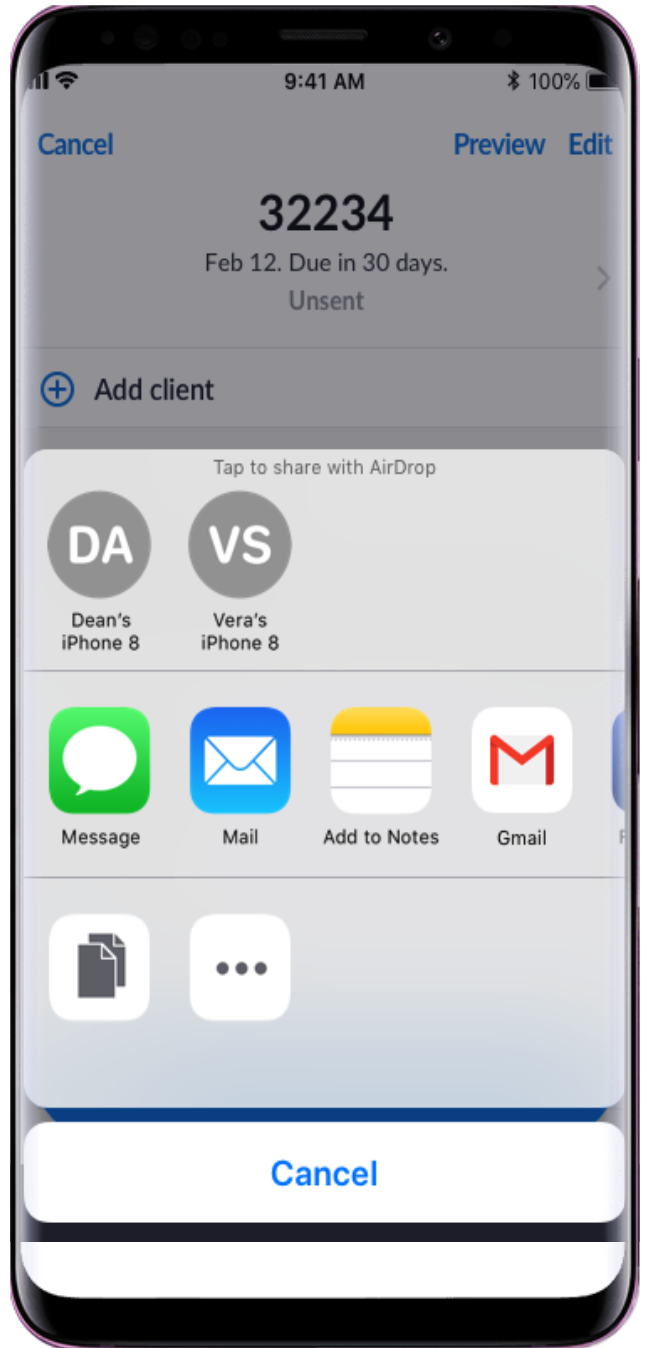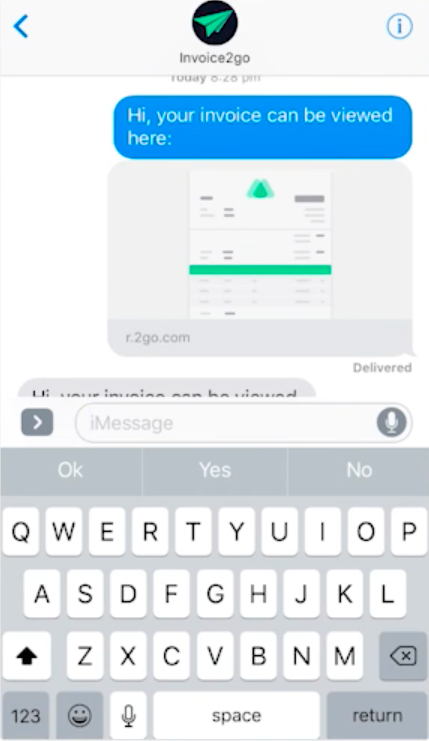 The following steps walk you through how to send your invoice through text. This feature is available for all document types, including Invoices, Estimates, Credit Memos, and Purchase Orders.
Please note that you can still send an invoice through email or by snail mail.
iOS and Android
From the side navigation menu, tap on Invoices
Open the invoice you wish to send, or create a new invoice
Tap on the green next button to be brought to the preview & manage screen
Tap on Send
Choose Text message if you wish to send your invoice via text message, or
Choose Other to send from any other messaging app on your device

The action box will display your device's apps that support messaging
Tap on the app you wish to use

The message will pre-populate with a link to view your invoice
After you send the message, the end client can tap on the link to pay the invoice through a secure payment portal
Users on the Standard Plan and above will be able to see the invoice messaging option on their Home screen. To open the Today screen from your home screen, swipe up from the bottom of the screen (where the text begins Today (and today's date)). On the bottom of each invoice card, you will see the option to Send the invoice to your client via email or message.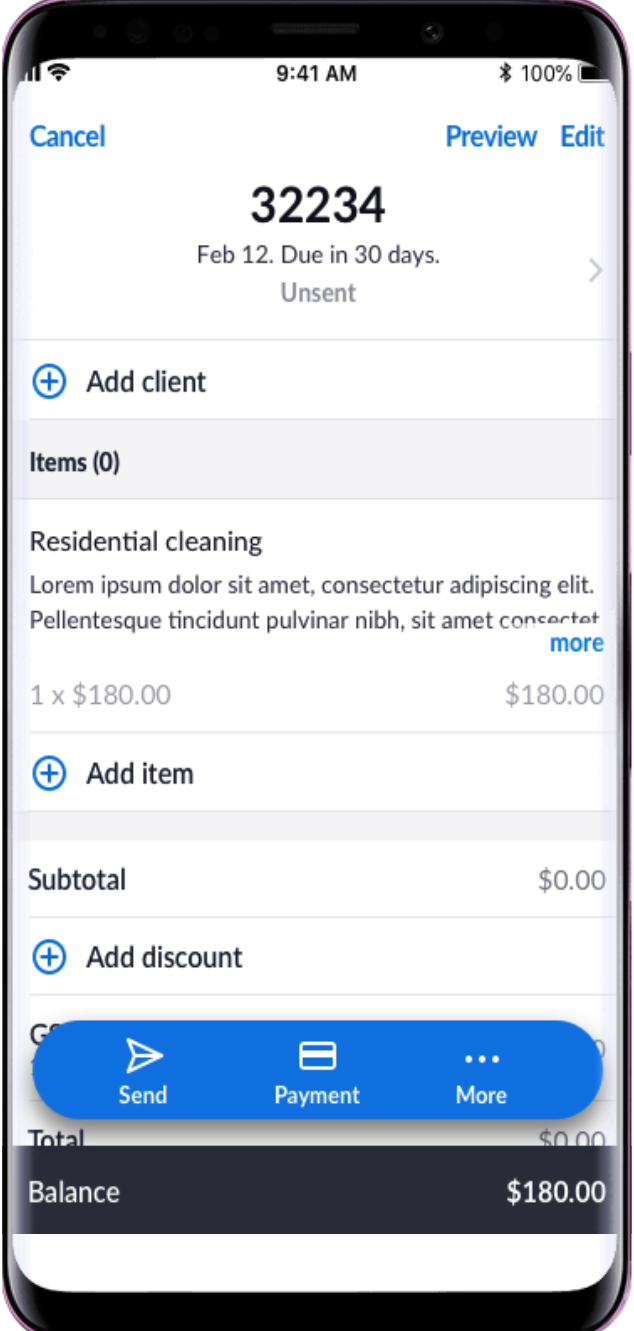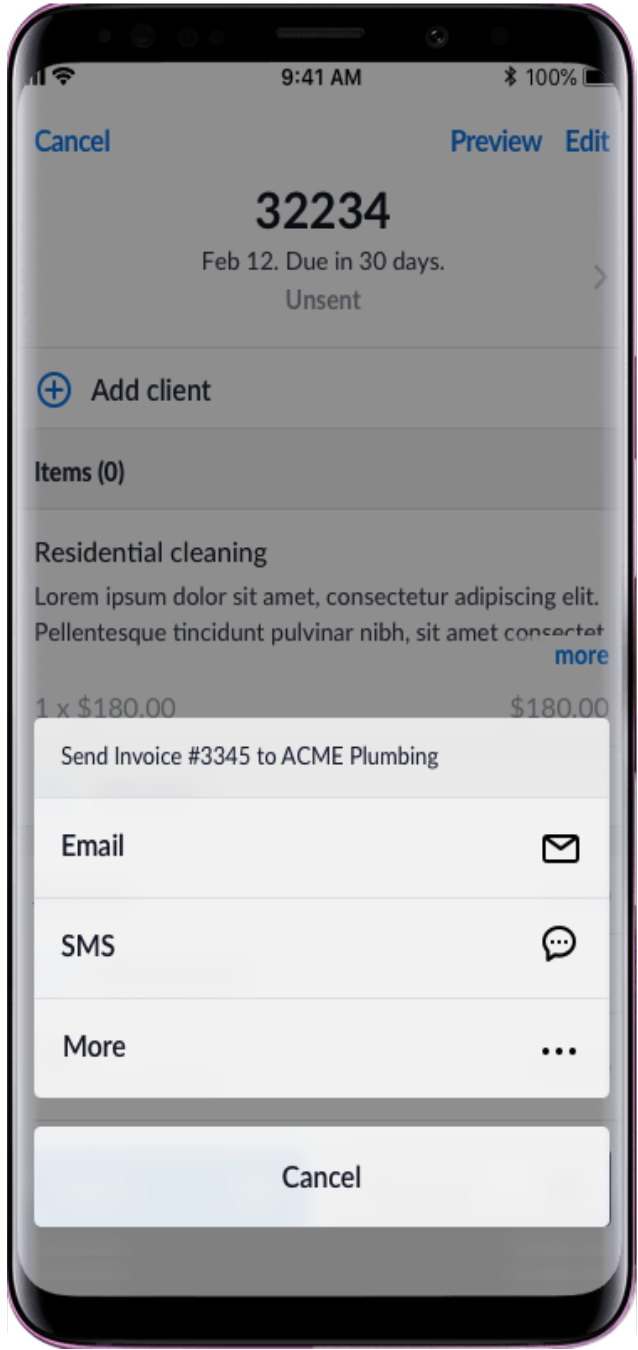 Tap on Text message to text the invoice to your client, or Other to choose from other messaging apps.
Minimum Requirements
Sending invoices via messaging is enabled for iOS 10.110 and Android 10.19.0 or higher. If you are unable to access payments on your mobile device, update to the latest version of Invoice2go on the App Store (iPhone and iPad) or Google Play Store (Android). The app version number is found at the bottom of the settings section within the Invoice2go app.