We think your business is 5 stars. Now your customers can say so too. Included in your Invoice2go subscription is the ability to have your customers leave your business a review. When a customer pays an invoice online, they will be prompted to leave a review for your business. Along with a 1-5 star rating for several different categories, your customer will also be asked to leave a comment on the job.
How does it work?
When your customer fully pays an invoice online, they will be given the option to rate your business and leave a short review. Your customer will have the chance to give a 1-5 star rating on five different categories including communication, timeliness, quality, value, and general experience.
Please note, your customers will not be asked to leave a review if they partially pay an invoice, and reviews will only be limited to one per customer. Once your customer leaves you a review, it will be housed within the Invoice2go app within the Company info section of Settings. These reviews will be 100% private within the app, meaning only you can see them unless you choose to share them somewhere.
What if my customer doesn't want to leave a review?
If your customer does not want to leave a review, that's no problem at all. There is no obligation on your customer's end to leave a review, nor will it impede their ability to pay your invoice online.
What if my customer doesn't pay online but wants to leave me a review?
If your customer pays an invoice through an offline method (cash, check, etc), but you would like for them to leave you a review, no need to worry. You can request a review through the following steps.
Click on

Settings

Click on

Company info

Click on

Reviews

Click on

Request reviews

at the bottom of the page

On the web version of the application, click on Request a Review in the top right corner

Select the customer you'd like to review your business

This will pre populate an email to your customer requesting a review which you can edit and then send to them
What does it look like?
Your customer's view: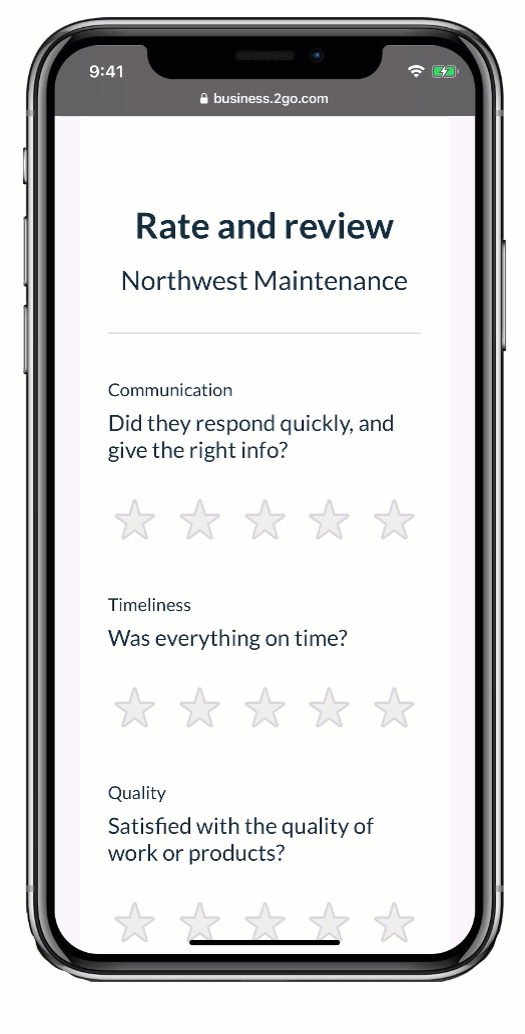 Your view: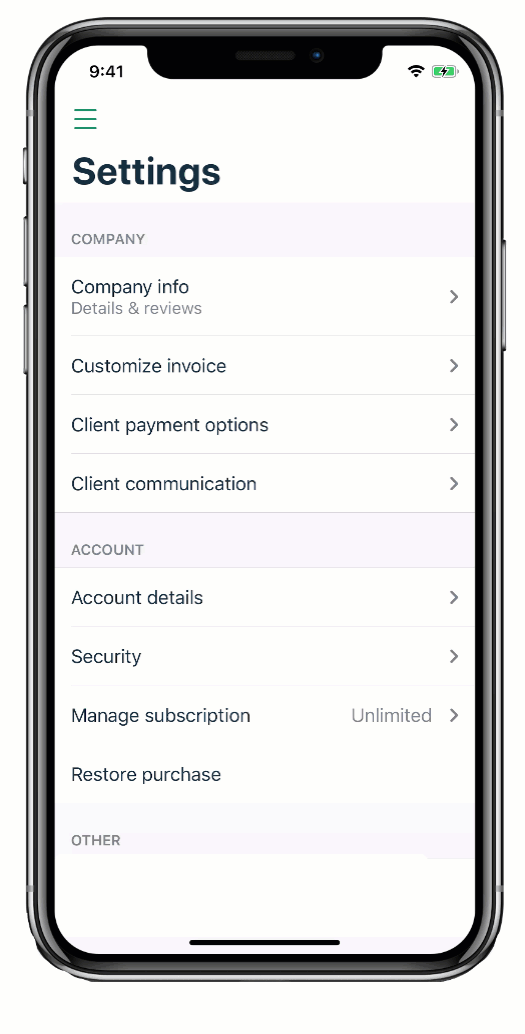 Why would I want reviews?
Reviews are a great way to get an idea of what you're doing great at, and what improvements you may need to make to improve your customer's experience. Additionally, gathering up some great reviews can help show off the great work you do to prospective customers.
What do I need to do?
To use the profiles feature, please make sure your Invoice2go app is running on the latest version via the Google Play or Apple app stores.